Donna Davis
'IMplant 008' | 2023 | giclee print, ed 1/1 | 53 x 88cm
Sunshine Coast Art Prize 2023 - Finalist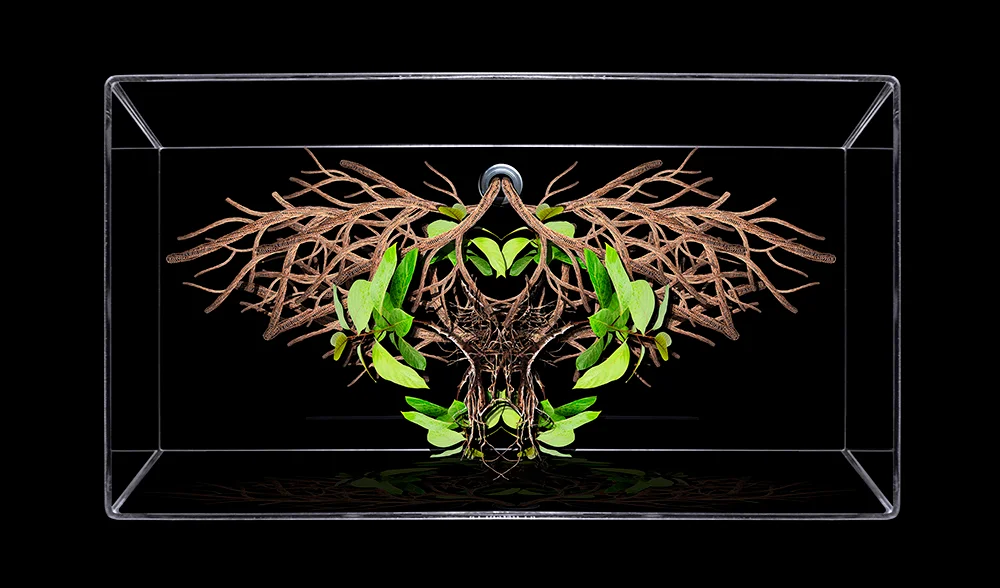 [Image courtesy of the artist]
Donna Davis | 'IMplant 008' | 2023 | giclee print, ed 1/1 | 53 x 88cm
Artist Statement
My work tells stories that examine ecology and climate-change through a creative lens; imagining futures and constructing new ways to see complex ecological systems and our role within them.
IMplant_008 is an imagined response to a real-life mission, to save climate-threatened flora. Playing with the idea of nurture and evolutionary manipulation, the work depicts a human-flora-fungi implant awaiting a mutually beneficial host.
This speculative work seeks to evoke tension, playing with the uncomfortable reality of habitat and species loss coupled with futuristic ideas of genetically modified inter-species organisms; ultimately seeking to remedy the shared fate for all living species.
Artwork created in response to the Tropical Mountain Plant Science Project, a real-life rescue mission led by the Australian Tropical Herbarium at James Cook University, supported by the Wet Tropics Management Authority; currently working to safeguard vulnerable mountain top flora from extinction with project partners cultivating rescued plants in temperate zone Botanic Garden collections. Special thanks to Stuart Warboys (Australian Tropical Herbarium) for supplying source image of a propagated L.granitica from the mission, for the artist to digitally alter and use in the work.