Michelle Hamer
Wheel Of Fortune | 2022 | single channel video (still) | 2 minutes 41 seconds
Sunshine Coast Art Prize 2023 - Finalist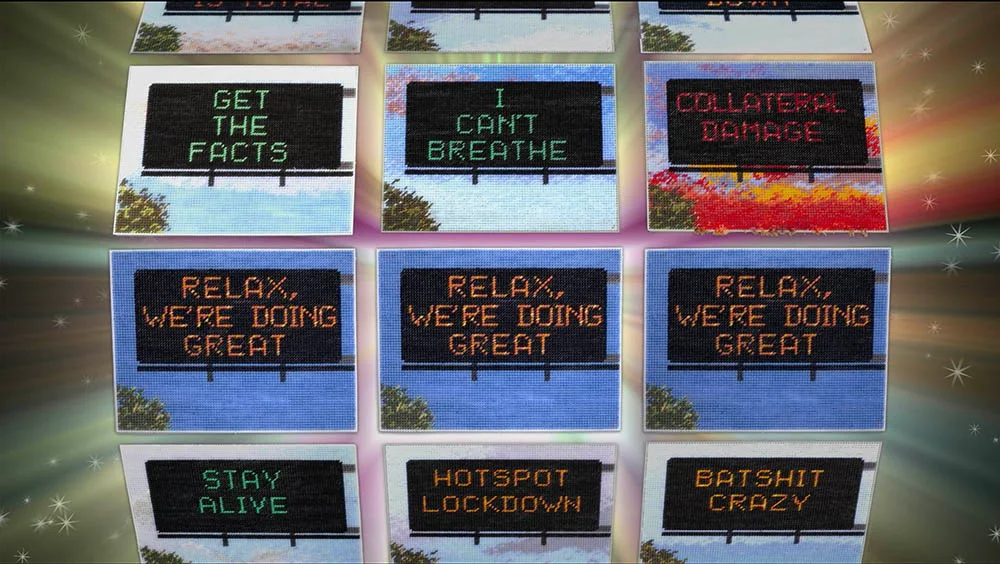 [Image courtesy of the artist]
Michelle Hamer | Wheel Of Fortune | 2022 | single channel video (still) | 2 minutes 41 seconds
Artist Statement
Wheel Of Fortune is both an oracle of our time and an ode to the escapism of collective forgetting. Playing as a 3 wheel 'pokies' style slot machine it spins, rings and flashes with frivolity. The objects, hand-stitched by the artist, depict an intense range of LED messaging highlighting the lottery of language we are exposed to depending on where we live and what media we consume.
Based on real signage and leadership statements, photos of signs were shared with the artist by people around the world. Protest language of gender, racial, climate and pandemic issues were pronounced and co-opted for varying agendas allowing for nuanced readings of each 'random' pokies' 'payline'.
In a period of rapid change, in both the physical and virtual world Wheel Of Fortune questions what we celebrate and the ways in which we appropriate and embrace language and other coping mechanisms.