Shauna Hill & Möbius
Shauna Hill & Möbius | Glass Lines | 2023 | new media work; 10 minute video loop | Image: Installation view at CityHall
Sunshine Coast Art Prize 2023 - Finalist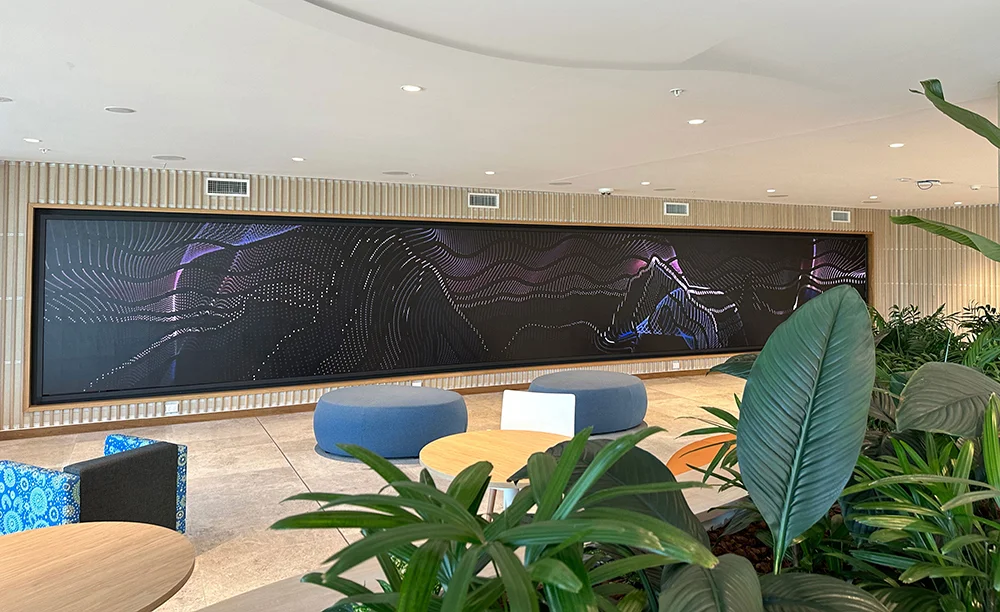 [Image courtesy of the artist]
Shauna Hill & Möbius | Glass Lines | 2023 | new media work; 10 minute video loop | Image: Installation view at City Hall
Artist Statement
Glass Lines is a collaborative work between GubbiGubbi Visual Artist Shauna Hill and Digital Artist Möbius, conveying the ancient story of Tibrogargan and a relevant message about the future of the Sunshine Coast.
Shauna spent several weeks painting the dreamtime story of Tibrogargan and his family, while Möbius responded, manipulating visual equations inspired by divine geometry and the scientific evidence of climate change.
The painting tells the story of Tibrogargan who watched the sea-levels rapidly rise from the east and alerted his family to the danger. Tears for the loved ones left behind formed the rivers present today.
The lines that interact with the underlying painting were generated by animating visual equations that represent the invisible resource thresholds required to sustain life on Earth that humanity continues to cross. 
Hope and connection to land also plays into the artwork as represented by a sunset over Tibrogargan and his family.