Boost to local businesses as festival excitement swells
Favourite songs, new music and memories are up for the taking, as the Caloundra Music Festival program has been released with the full line-up of artists and the schedule allowing you to plan your weekend (Sep 29-Oct 1), so you don't miss a beat.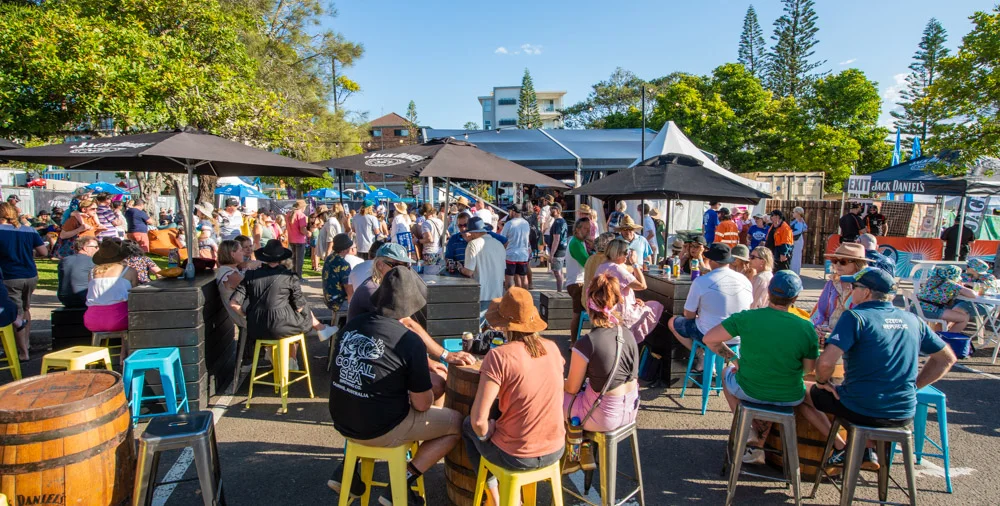 Like seagulls at the beach on a hot sunny day, thousands of music lovers will flock to Kings Beach for an unforgettable long weekend of sun, surf and soul.
Favourite songs, new music and memories are up for the taking, as the Caloundra Music Festival program has been released with the full line-up of artists and the schedule allowing you to plan your weekend (Sep 29-Oct 1), so you don't miss a beat.
Download the APP
** iOS https://apps.apple.com/us/app/caloundra-music-festival-2023/id1501988777
**Android https://play.google.com/store/apps/details?id=com.sunshinecoastcouncil.cmf
Festival fans should go all-in with a weekend pass or buy day tickets at www.caloundramusicfestival.com before the final ticket release kicks in next week.
More than just music, the beachside festival experience means collaborating with businesses across the region to showcase Sunshine Coast's local producers, retail and tourism offerings.
Buddina based business The Branding Office has all the festival merch ready to fly off the shelves and is already taking orders now.
From zero in 2007 to seven in 2023 – that's how many local craft brewers and distillers will offer up their award-winning beers and spirits at the five festival bars thanks to Beachtree Distilling Co, Brouhaha Brewery, Diablo Co, Moffat Beach Brewing Co, Paradise Rum, Terella Brewing and Your Mates Brewing Co.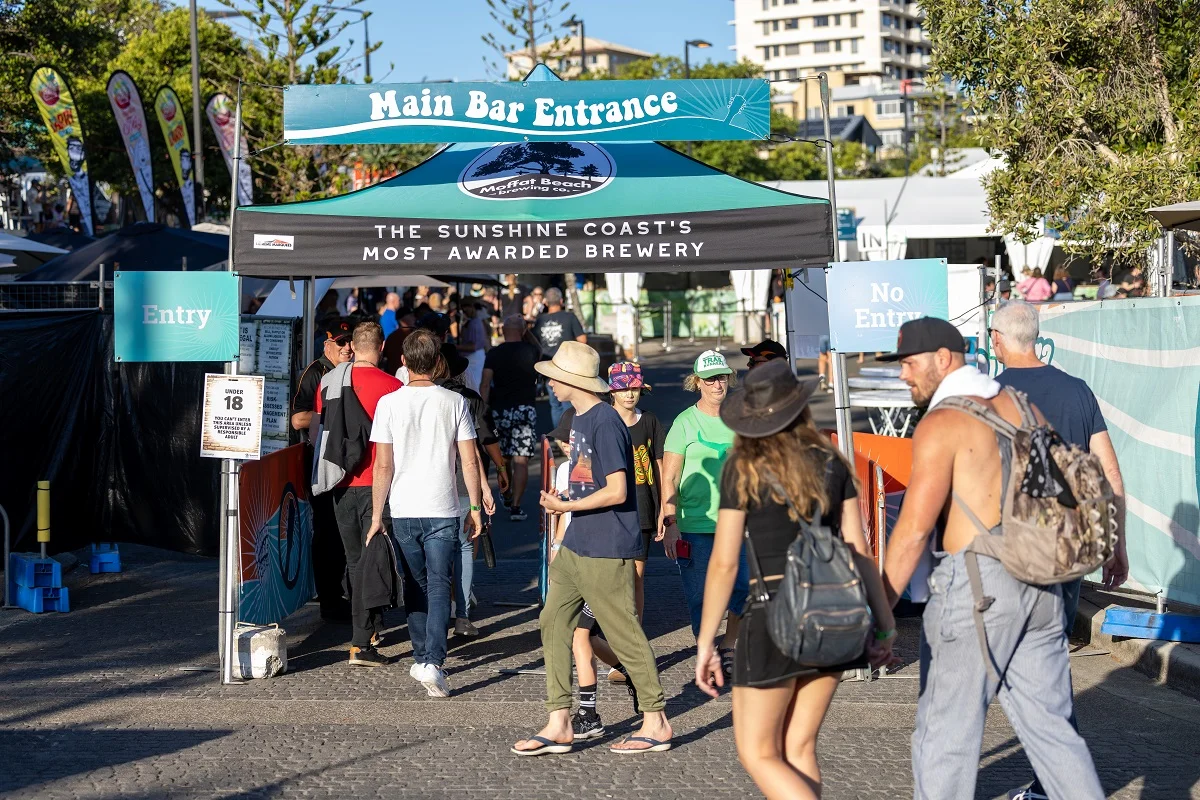 Sunshine Coast Council Division 2 Councillor Terry Landsberg said 60 per cent of ticket sales were from out-of-region, reflecting that the artist line-up and the destination were both great attractions for our town.
"Caloundra was named Queensland's Tourism Town earlier this year and last week named one of Australia's top three tourism towns," Cr Landsberg said.
"The sun just keeps on shining for Caloundra's reputation.
"Kings Beach businesses and Caloundra CBD are ready for the influx, hoping to finish off the school holidays on a high note.
"Businesses across the region were invited to list on the CMF APP and still can.
"Punters can experience plenty of things to do before the festival kicks off each day, whether it's jet ski hire, breaky at Coffee Cat on Kings, a float at City Cave, Frocal fresh fruit smoothies or a symphony of flavours at Harry's Beach Bistro and more."
The festival works closely with local suppliers, vendors, staff and volunteers to create an event that the Sunshine Coast can be proud of.
Businesses wanting to get in front of the CMF audience via the APP can message for the form link via Facebook or Instagram @caloundramusicfestival.
Cr Landsberg also reminded residents and visitors that a number of park, road and carpark closures will take place in the Kings Beach area in order to safely build, run and pack down the Caloundra Music Festival.
"Set-up started September 18 and your patience is appreciated during this time," he said.
All CMF infrastructure will be removed, and parklands will be completely reopened by 5pm on Friday, October 6.
For full details of changed traffic conditions go to www.caloundramusicfestival.com.au
The Caloundra Music Festival is an event initiative of Sunshine Coast Council and supported by the Queensland Government through Tourism and Events Queensland and features on the It's Live! in Queensland Events Calendar.
CMF23 promo reel
Caloundra Music Festival promotions reel
Second Release ticket prices
Ticket type
ALL-IN (Fri-Sun)
Day Tix
Adult
$317
$123
Kings Club (limited)
$495
$204
Youth 13-17 and
Pension Card Holder
$213
$83
Child 1-12yrs
$94
$37

Final ticket prices will in effect from 6pm Thursday 28 September 2023
Artists in Alphabetical order
1927
19-TWENTY
ADAM JAMES
ADAM-JAMES (yes there are two AJs)
ALLENSWORTH
ALYS FFION
AMPERSAND
ANDREA KIRWIN AND THE YAMA-NUI SOCIAL CLUB
ANNA & JORDAN
ARRESTED DEVELOPMENT
ASPY JONES
AYLA
BAND OF FREQUENCIES
BARRY MORGAN'S ORGAN DEN
BETTY TAYLOR
BUSBY MAROU
BUSTAMENTO
BUTTERED
BUTTERMELLO
CARAVANA SUN
CHRIS AH GEE
CIRCUS TRIBE CO OP
DANA GEHRMAN
DIESEL
DJ TOTAL ECLIPSE (THE X-ECUTIONERS)
DOC HALIBUT
DUMPSTAPHUNK
ELLA FENCE
EMMA TOMLINSON FT. PETER KOPPES & TIO KURUN WARUN
FLASKAS
FOOLS
FRANK & LOUIS
GOOD WILL REMEDY
Gubbi Gubbi
HAPPY VALLEY
HIATUS KAIYOTE
HIGH TROPICS
ILLY
JACK RIVER
JARRYD JAMES
JAZZELLA
JC & THE TREE
JEN MIZE & THE ROUGH N TUMBLE
JESSE TAYLOR
KARLOU
KASEY CHAMBERS
KATCHAFIRE
L.A.B
LAZY GUNS
MEG MAC
MELBOURNE SKA ORCHESTRA
MIDDLE KIDS
MUFASSA and THE PRIDE
NICKY BOMBA
OWLS OF NEPTUNE
PAT TIERNEY
PHIL BARLOW BAND
RAW ORDIO
RAY BEADLE STAX OF BLUES
REDWOOD SCOUNDREL
RENEGADE FUNK
ROSHANI
ROSS WILSON & THE PEACENIKS
RYLAND MORANZ
SAMPA THE GREAT
SARI ABBOTT
SHEN PANTHERS
SIERRA NOBLE
SPIDERBAIT
SUGARBAG BLONDE
TESS FAPANI
THE BLACK SORROWS
THE DANDYS
THE DAWN LIGHT
THE STRIDES
THE TEMPER TRAP
THIRSTY MERC
THIS NEW LIGHT
TOBIAS
TROPICALIA DANCE STUDIO
VERA BLUE
WILSN
---
This article Boost to local businesses as festival excitement swells has been supplied from the OurSC website and has been published here with permission.