First Nations Voices in text
Lulu Littler: soul-lines and Uncle Noel (Gulla) Blair: Ganan Ganan Poor Fella Me poster series 21 Jun to 6 Aug 2022 | Maroochydore Library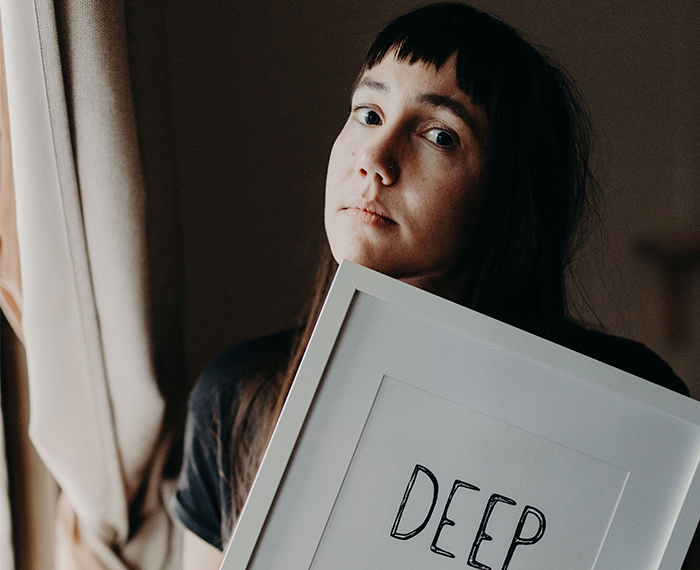 Artist Lulu Littler with work deep funk (2022) | Image courtesy of Ingrid Coles Photography
Caloundra Regional Gallery in collaboration with Sunshine Coast Libraries present the next exhibition for the Maroochydore Library Artspace - First Nations Voices in text: Lulu Littler: soul-lines and Uncle Noel (Gulla) Blair: Ganan Ganan Poor Fella Me poster series (works from the Sunshine Coast Art Collection).
Lulu Littler:
Soul-lines is where the lovelines and songlines meet.
It's an exhibition of collected words, old ones and new ones I'm learning, to deliver up a kaleidoscope view of my kaleidoscope self, toward a shared experience between you and I.
I made these works to have a physical world to traverse the non-physical. To tour my own meandering ideas of identity and place.
These are my devotions to my own learning, vulnerabilities, my gunii and my old people.
They're what has moved through me.
These are my small and large devotions.
Uncle Noel (Gulla) Blair:
The Ganan Ganan Poor Fella Me poster series is a series of six large-scale poster works that depict brief, passing moments of conversation between embodied animal figures, speaking to the social and political circumstances of Uncle Noel's life, as an Aboriginal man, living on Cherbourg mission and travelling and working across vast areas of Southeast Queensland.
| | | | |
| --- | --- | --- | --- |
| Location | Event | Dates | Registration |
| Maroochydore Library | Exhibition | Tuesday 21 June to Saturday 6 August | Not required |