AFL Masters Brings Largest Football Event to Coast
The Sunshine Coast will host the largest mass participation football event in Australia in October when 2023 AFL Masters National Carnival starts in Maroochydore on Sunday.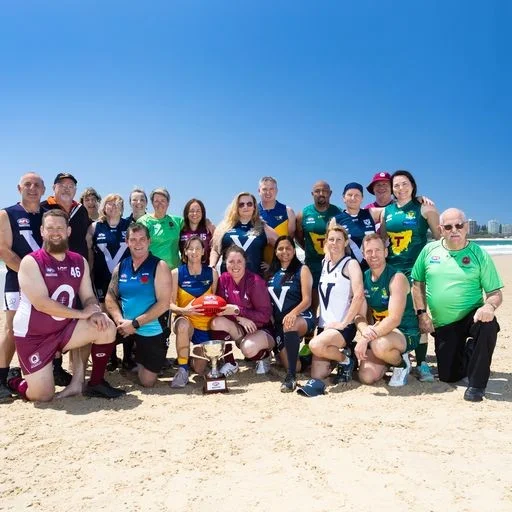 The Sunshine Coast will host the largest mass participation football event in Australia in October when 2023 AFL Masters National Carnival starts in Maroochydore on Sunday.
More than 1580 players from all States and Territories will be playing in the 40th AFL Masters National Carnival – the youngest player at 35, and the eldest a spritely 80 years' young – usurping the previous record 1228 that played in the 2022 AFL Masters Carnival in Adelaide last year.
In total, more than 3000 attendees including Team Managers, Coaches, Umpires and travelling families are descending upon the Sunshine Coast for the Carnival starting on Sunday.
AFL Masters President Steve Eurell is excited about the carnival returning to the Sunshine Coast following a 12-year hiatus.
"The Sunshine Coast region has proven once again to be one of the most popular holiday destinations for our AFL Masters participants with its wonderful climate, great array of accommodation choices and tourist attractions."
"When you combine that with the excellent facilities at the Maroochydore Multi Sports Complex then our 2023 National Carnival has always been primed for success," said Eurell.
76 teams across seven age brackets will descend on Maroochydore this week for this hugely popular sporting event to vie for the title of becoming AFL Masters National Champions.
Sunshine Coast Economy Portfolio Councillor Jason O'Pray said that the region is so pleased to welcome the biggest ever AFL Masters National Carnival to the Sunshine Coast.
"Our region has been recognised as a real hub for training, events and competitions across many sports, including AFL and we are excited to host a masters carnival of this calibre at our Maroochydore Multi Sports Complex", Cr O'Pray said.
"The climate and natural landscape we are fortunate to have here on the Sunshine Coast is the perfect recipe for living an active and outdoor lifestyle and playing the sports we love.
"Thank you Adrian and the AFL Masters team for choosing the Sunshine Coast and sharing this special carnival with our community.
"Best of luck to all the Masters competing here on the Sunshine Coast."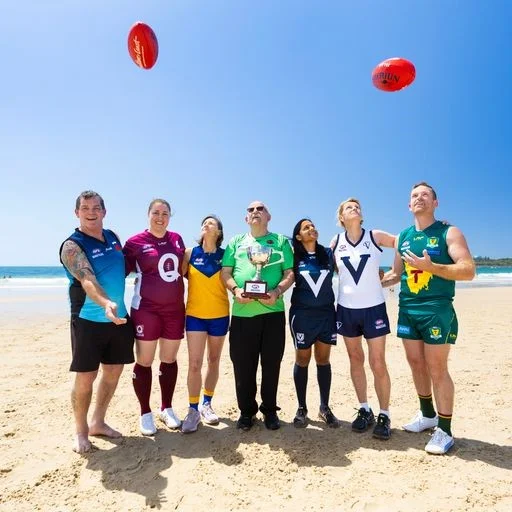 The AFL Masters National Carnival is supported by the Sunshine Coast Council through the Major Events Sponsorship Program and the Queensland Government through Tourism and Events Queensland, and features on the It's Live! in Queensland events calendar.
Queensland Sport Minister Stirling Hinchliffe said the AFL Masters National Carnival would boot a huge goal for tourism operators on the Sunshine Coast.
"As one of Australia's biggest carnival events, the AFL Masters National Carnival is on the mark to shepherd thousands of players, support crew and spectators to our region," Mr Hinchliffe said.
"Returning to the Sunshine Coast after twelve years, the AFL Masters is truly a national event with competitors from every Australian state and mainland territory represented.
"It's wonderful to see the AFL Masters kicking majors for tourism operators with four of the carnival's nine days dedicated to celebrating the Sunshine Coast world-class visitor experiences.
"The AFL Masters National Carnival is another great example of sporting events backing Queensland's visitor economy on our runway to the 2032 Olympic and Paralympic Games."
AFL Masters is open to both male and female players aged 35 and over, with women's Masters being the largest growth area of the sport.
There will be a number of former AFL and AFLW players participating headlined by the 2001 Brownlow Medalist Jason Akermanis.
Akermanis will be joined in his Queensland over 45s side by a combatant in the 2003 AFL Grand Final, ex-Collingwood player Jason Cloke.
"With the two sides (Brisbane and Collingwood) playing off for the AFL Premiership Cup again this week, expect to see plenty of highlight reels on loop showing Aker kicking his five 20 years ago," said Adrian Raftery, the General Manager of AFL Masters.
South Australia are the defending champions in the Mens 35s and Mens 40s divisions, whilst Vic Country and NSW are vying for back-to-back titles in the Womens 35s and Womens 40s respectively. Vic Metro Over 65s Mens are looking to extend their unbeaten stretch in the age group.
"With a home Carnival, we expect that Queensland will have one of its strongest Carnivals ever," said AFL Masters Queensland President Sam French.
"We are excited to welcome all the States and Territories to the Sunshine Coast, but all bets will be off once the siren sounds to start each match. Expect the typical Queenslander spirit to shine through this week."
In addition to match days, the participants are also taking part in a significant social program, including a range of tours to popular destinations for players, officials and their families to experience the best of the Sunshine Coast and Queensland.
From a golf day at Twin Waters and visit to Australia Zoo through to a sold out Gala Night finale at Aussie World, the estimated economic benefit of the Carnival week to Queensland is expected to exceed $6M.
AFL Masters General Manager Dr Adrian Raftery said the event was a chance to showcase how well Queensland puts on a show, as well as highlight tourism opportunities in the State.
"It is terrific for our AFL Masters players, officials and supporters to return to the glorious Sunshine State for what will be a big week of sporting fun and friendship – a real festival of footy in what's now an AFL State," he said.
For more information visit the AFL Masters National Carnival webpage http://carnival.masters.afl/