Art Collection on Show
The collection is on display in key locations, including council's administration buildings, libraries and selected venues
Sunshine Coast Council is committed to enabling access to the Art Collection through a vibrant presentation of selected artworks on the walls of public and civic buildings, external loans and touring exhibitions, curated exhibitions, outreach opportunities and an online Art Collections database.
The Art Collection is currently on display in key locations across the region, including the public foyers of Council's administration buildings, libraries and selected venues.
The Art Collection is also showcased at times in themed exhibitions at the Caloundra Regional Gallery. See information below for details of Art Collection exhibitions and displays.
At times, artworks are also loaned externally for specific exhibitions and displays to promote the Art Collection and the Sunshine Coast beyond the region. Council provides and seeks opportunities for effective Collection partnerships with other galleries, museums or groups. For more information, please contact the Collections Curator.
Current exhibitions
Highlights from the First Nations Art Collection
Now showing at various Libraries and the Customer Service Centres.
Past exhibitions
Latest & Greatest: Sunshine Coast Art Collection recent acquisitions
12 February – 14 March 2021
Australian paintings, sketches and ceramics from the 1960s to today
October 2020 – February 2021
News from the Sunshine Coast Art Collection Curator. In recent months I have been collaborating with an art collector on curating an exhibition of works from his incredible art collection which will be on display across each of the Sunshine Coast Library branches. Each library will have something a little different ranging from ceramics, paintings and watercolours by contemporary Australian artists and ceramicists.
In FULL Colour: the Sunshine Coast through the eyes of an artist
4 March – 1 June 2019
Reconciliation and NAIDOC Week displays
June – August 2018
8 March – 29 April 2018
On display as part of the Borrowed Time exhibition at Caloundra Regional Gallery is a suite of eight ceramic and mixed media sculptures by Laith McGregor, recently gifted by the artist to the Sunshine Coast Art Collection.
In Focus: Highlights from the Sunshine Coast Art Collection
Throughout February and March recent acquisitions and other selected works from the Sunshine Coast Art Collection will be displayed in publicly accessible locations within council buildings across the region.
The Glass Houses
28 October 2017 – 27 January 2018
Caboolture Regional Art Gallery
In this exhibition view Joanne Currie Nalingu's Glasshouse Mountains Triptych 2002 currently on loan from the Sunshine Coast Art Collection.
From the Mountains to the Sea: Sunshine Coast Stories
8 July – 19 August 2017
University of the Sunshine Coast Art Gallery
Re-View: Selected works from the Sunshine Coast Art Collection
26 April - 18 June 2017
Caloundra Regional Gallery
6 February - 23 March 2014
Caloundra Regional Gallery
Featured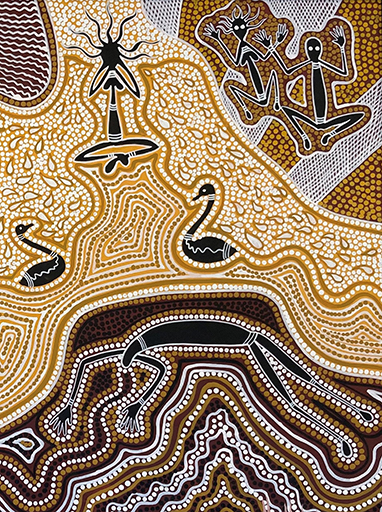 Maurice Mickelo | Mount Coolum Dreamtime Story (detail) | 2017 | Acrylic on canvas | 112 x 135cm | Sunshine Coast Art Collection | Sunshine Coast Airport Expansion Project Commission, 2017