Featured Artist: Munimba-ja
This artisan pop-up features Munimba-ja artists Libby Harward and Uncle Noel Blair.
Munimba-ja is an Aboriginal-run gallery, shop front, and yarning place in Maleny. Driven by local Aboriginal voices, Munimba-ja creates and promotes contemporary Aboriginal art and ideas.
Libby Harward is the Director and Co-founder of Munimba-ja. She is a Ngugi woman of Mulgumpin (Moreton Island), in the Quandamooka (Moreton Bay).
Libby creates artworks that break through the colonial overlay to connect with the cultural landscape, which always was, and remains to be there. She describes her practice as a process of simultaneously listening, calling out to, knowing and understanding Country.
Libby has created blankets and vases based on her large-scale ochre paintings. These tell the story of the journey from her salt and sand island, Mulgunpin, to freshwater Jinibara Country, where the Bonyi (bunya) festival is held.
Libby has also designed a range of t-shirts and stickers celebrating Aboriginal culture and land sovereignty.
Uncle Noel Blair is the Munimba-ja Elder in Residence. He is a Traditional Custodian of Jinibara Country.
Uncle Noel's art practice focuses on drawing and burning traditional and contemporary designs onto hand carved wooden artifacts. He grew up on Cherbourg Mission in south-eastern Queensland and shares his incredible life journey through his artistic practice.
T-shirts featuring Uncle Noel's artworks are on sale through the pop-up, alongside Libby's designs.
Featured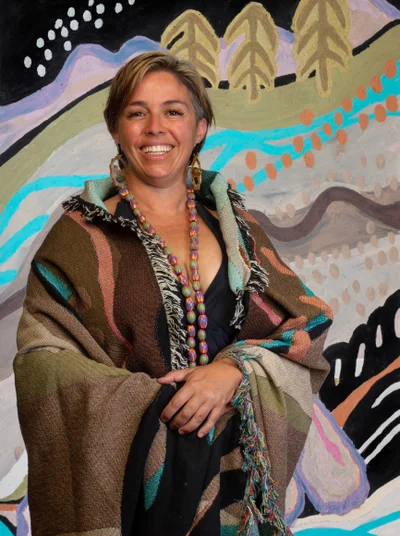 Libby Harward | Image courtesy of Munimba-ja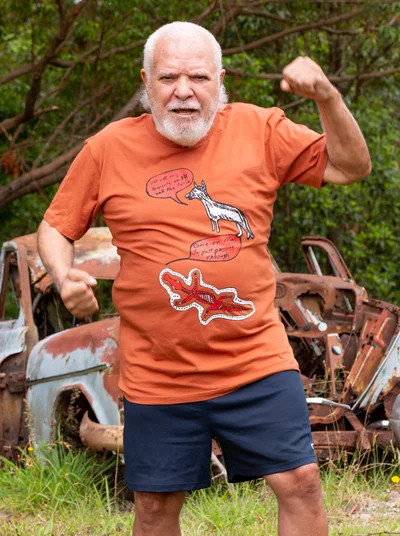 Uncle Noel Blair | Image courtesy of Munimba-ja